- NEWS -
2020.09.18


Pearl Wedding 30th Anniversary ~Show Love & Appreciation~

Pearl Wedding Anniversary Trip Plan 

The 30th wedding anniversary is called   "Pearl Wedding Anniversary – Shinjyu kon"
in Japan

Therefore, we celebrate this special day with pearls and many people give pearl jewelry to your loved ones.  
To make it more wonderful memory in your life, we are glad to propose "Surprise Pearl Wedding Anniversary Trip Plan"

1.Yokoyama Observatory in Shima City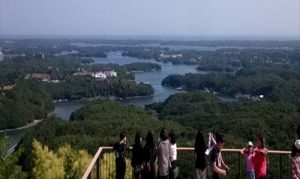 Here you will be able to have a wonderful view of Ria coast of Ago Bay, the homeland of cultured pearls.
We will send you in advance to your hotel or your convenient place a message card and 3 piece of Akoya pearls.
Please hand this surprise gift to your loved while admiring the beautiful scenery.

2. Meoto Iwa – A Couple Rock in Ise City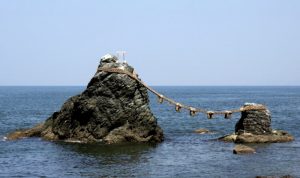 Meoto Iwa is two sacred rocks that represent a married couple in the waters off the coast of Futami that leads from the central of Ise City.
The couple rocks are tied solidly with shimenawa, a rice straw rope typically hung below the entrance to shrines.
The rope will be changed every year on May 5, Sept 5 and the mid December when the tides are calm. 
You might even catch a glimpse of Mount Fuji if you are lucky when the weather is good.
It has been attracted as a power spot for love, praying for marital bliss and good marriage.
3. Pearl Falco Ise Gallery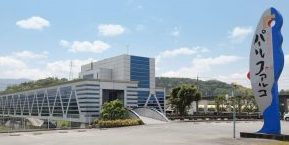 We are happy to make your own pearl jewelry using these 3 pearls like pendant or earrings. Any customization including gentleman's fashion will be available.
It's our honored to help you to show your love an appreciation through pearls. 
When the meeting is over, let's take a picture with you and your loved one together with pearls!
We will make your pearl jewelry and send it together with the photo.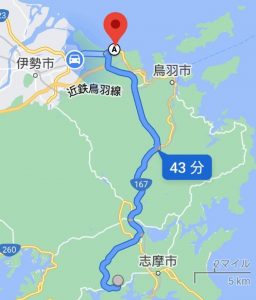 4. Ise Shrine  – Soul of Japan  in Ise City 


Japan's sacred site of Ise Jingu 伊勢神宮, Japan's oldest known Shinto Shrine where the Sun Deity Amaterasu resides.
https://www.isejingu.or.jp/en/about/index.html

It will be convenient to travel in Ise Shima Area by car. Please contact us freely for any advice of your trip!