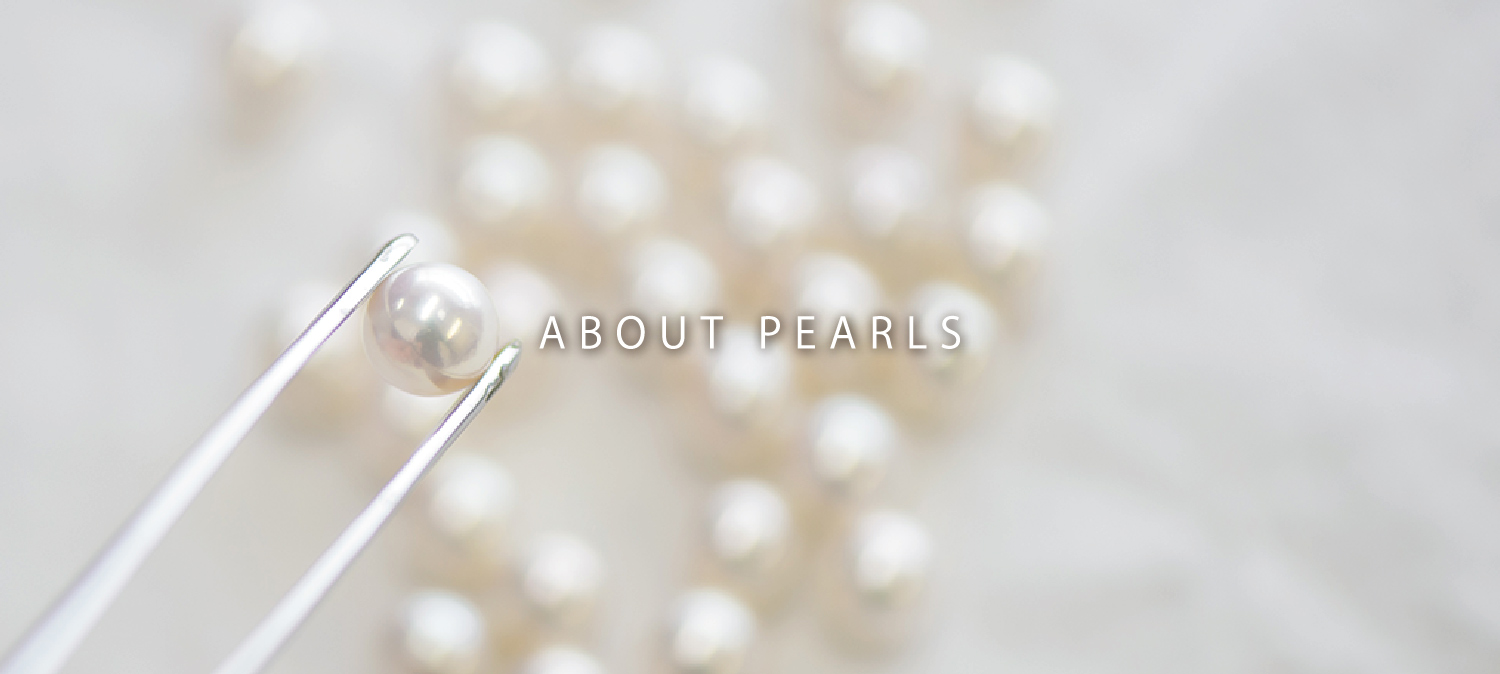 "The One Living Gem Stone – Pearls"
born in nature, cultivated with human love
- TYPES OF PEARLS FROM AROUND THE WORLD -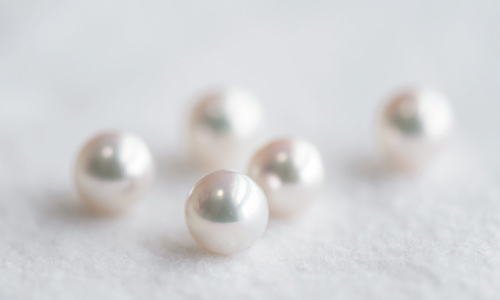 Akoya Pearl
With brilliant luster and rich colours, Akoya pearls remain a classic pearl of choice, symbolizing elegance and timeless beauty. Akoya oysters are primarily found in the Sea of Japan. Akoya pearls typically range in size from 2 to 10 mm, most commonly ranging between 6 and 8 mm in diameter.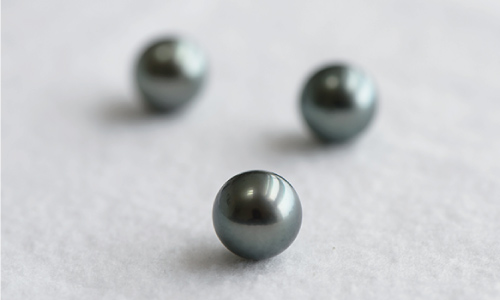 Black Pearl
Born from black-lipped oysters, mainly cultivated in French Polynesia and Okinawa. Sizes range from 8 to 17mm - most commonly 9 to 11mm. Their singularly dark colour is highly prized, with an exceptional array of iridescent colours – among them, soft gray, brown, green and peacock.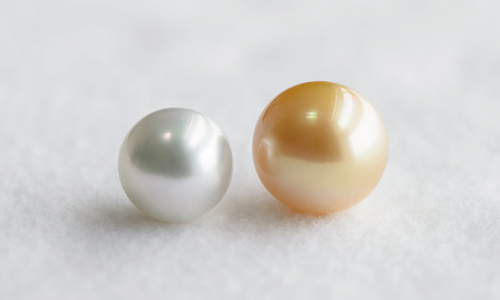 South Sea Pearl
The luminous soft inner glow of South Sea pearls is born from South Sea oysters, cultured primarily in Australia, Philippines and Indonesia. Pearl sizes are generally much larger than other pearls, ranging from 8 to 20 mm with 12 mm being the average. South Sea pearls are the world's rarest pearl, with a subtle array of colours, typically white, gold and silver.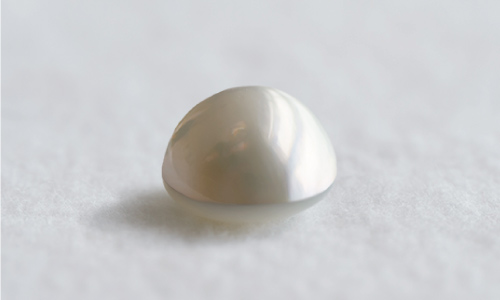 Mabe Pearl
Mabe or "blister pearls" are half-pearls that grow against the inside of an oysters' shell. Mabe pearls are cultivated in the Ryukyu Islands of Japan and the Pacific South Seas. The pearls' ultimate size is determined by the size of the nucleus attached to the oysters' inner shell. Common sizes vary from 12 to 20 mm. Mabe pearls come in a wide range of colours - silver grey, silver white and rainbow with pink and bluish overtones. Commonly resulting in almost any shape - rounds, ovals, hearts, drop, pear, etc.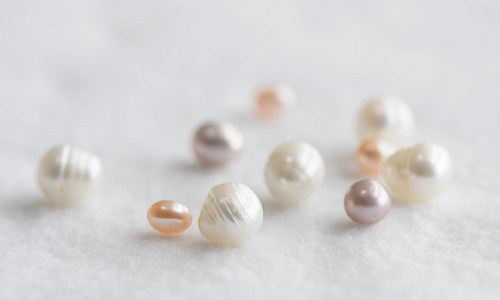 Freshwater Pearl
Freshwater pearls are cultured by freshwater mussels in Japan, in Lakes Biwa and Kasumigaura, and in the southeastern regions of China. Sizes range from tiny seed pearls, 1 or 2 mm in diameter, to 12 mm and larger. Rather than a glossy shine, freshwater pearls are more widely distinguished for their variety of colours such as white, pink, orange, and other pastel colours. Freshwater pearls are produced in far greater abundance than other pearls and are cultivated in about 6 months.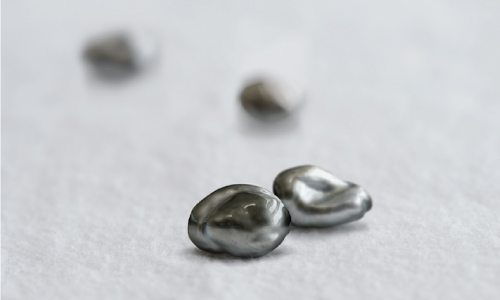 Keshi Pearl
Keshi, or "poppy seed" pearls are naturally forming non-nucleated pearls. Without a nucleus to help establish the pearls' ultimate shape or size, Keshi pearls tend to be smaller than average. Keshi pearls also come in a wide variety of different shapes and colours, with a characteristically high luster due to the pearls' solid-nacre composition.
- HOW TO DETERMINE THE VALUE OF A PEARL -

No two real pearls are exactly alike.
A pearl's translucent luster is formed by many layers of fine nacre.
This intrinsic brightness, translucence and subtle elegance are some of the qualities
that make naturally formed pearls so unique.

We wish to share our belief in the true significance and importance of pearls and their incorporation into beautiful designs, from Ise Shima to the world. Please feel free to contact us for any inquiry about pearls.
| | |
| --- | --- |
| Luster | The intensity of light reflected in the pearl's surface. Luster is one of the most important characteristics of a pearl's quality. The better the nacre quality of the pearl, the more superior its luster. Any pearl that appears too white, dull or chalky, may be of low quality. |
| Nacre | Nacre thickness is an important factor when measuring a pearl's quality. Nacre is the coating that the oyster forms around pearls and is composed of calcium carbonate crystals. The depth of the nacre significantly impacts a pearls' appearance and is a useful means of determining value. |
| Size | The value of a pearl is also determined by its size, important because larger pearls are rare in nature. The larger the pearl, the more valuable it is. The majority of cultured pearls are under 10mm in diameter. South Sea pearls, in contrast, far rarer than the rest, are cultivated in warmer oceans and are among the largest pearls in the world. |
| Shape | The shape of a pearl plays a major role in determining its value. There are a number of different shapes: round, baroque, button, tear drop, oval and semi-round. Whether natural or cultured, spherical or round pearls are the most difficult shapes to cultivate and to find. |
| Colour | Pearls come in a variety of colours, from white to black and every shade in between. Body colour is the overall colour of the pearl. The most common body colours are white, cream, gold, silver and grey. Iridescent rainbow colours accentuate a pearls' body colour. |
| Surface | As a product of nature, genuine pearls will always have some form of blemishes and tiny marks. A pearls' surface condition affects its value. The cleaner the surface of the pearl, the more valuable it is. |
| Matching | Matching is an important factor when assessing two pearls side by side. Matching refers to the uniformity of appearance of the pearls in a piece of jewelry or strand. Creating an excellent strand of pearls requires skill, experience and extreme diligence. Each pearl must closely match in terms of luster, shape, size, colour, surface and nacre. |
- HOW TO DETERMINE GENUINE VS IMITATION PEARLS -

Material
Imitation pearls are made up of glass, ceramic, shell or plastic.
Genuine pearls are formed from multiple concentric layers of nacre.
Surface
Genuine pearls have a slightly rough surface when rubbed against each other while imitation pearls have an almost perfectly smooth surface.
Colour
Real pearls have an intrinsic depth and luminosity to their colour.
Imitation pearls have only one body colour.
Weight
Real pearls are comparatively heavier in weight while imitation pearls are lighter in density.
Hole
Chipped or cracking paint is a sign that your pearls may be imitation, look carefully at a drill hole and if any missing paint or rough edges are showing, it is most likely imitation.